Squirrel Control Charlotte NC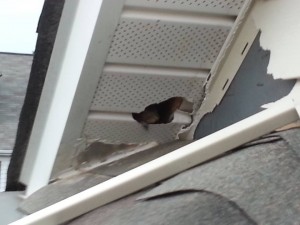 Squirrel Control Charlotte NC is a very common problem that homeowners face in the fall and spring. Most of the squirrel removal calls that Mecklenburg County Animal Control receive are given to a professional squirrel control Charlotte NC company. Some of the squirrel removal services that we offer are squirrel trapping (one way doors, live trapping, euthanasia traps), getting rid of squirrels from the gable vents or soffit, squirrel exclusion, electrical repair from squirrel damage, removing squirrel nesting material from the attic, dead squirrel removal, attic insulation restoration and disinfecting areas where squirrel droppings were laying on the insulation.
Squirrels living in the attic space are one of the most common complaints we get from our customers. Services we offer include helping identify squirrel damage resulting from squirrels running back and forth in the attic; chewing the romex away exposing the copper electrical wires. Since the gray squirrel is a rodent, their front teeth are constantly growing. This causes the squirrel to chew on any object to keep their teeth sharp. In nature, gray squirrels chew on tree bark, twigs and other natural hard items. In your attic, they chew on wires, support beams, roof braces and electrical fixtures.
Also squirrels can destroy your insulation by trampling on it and pushing it down which reduces your R-factor. If this happens you would need to remove the contaminated insulation and replace with new blown in fiberglass insulation. Their urine and fecal matter will also collect in your insulation. If you hear chewing or scratching in your attic don't hesitate to pick up the phone and call a squirrel control charlotte nc specialist.
We also offer rat removal, mice removal, rodent control and flying squirrel removal. For all of your squirrel removal in Charlotte needs call Charlotte Squirrel Removal. 704-777-8003.